services
check out 
Some of the services we offer
Alignments
2-wheel
$69.99
4-wheel
$99.99
State of the art alignment. Printed report showing before and after adjustments.
Inspections & Diagnostics
Starting at
$52.50
Have your vehicle inspected at Taylor Made Customs to ensure everything is in top mechanical order. We offer computerized diagnostics starting at $40.00 for the first half hour.
Air Conditioning A/C System
$115.00
Have your vehicles Air Conditioning system checked and serviced here at Taylor Made.
Lube, Oil & Filter
Starting at
$24.95
Inspect all fluid levels and condition. Check belts & hoses. Lube door and hood hinges, lube steering, suspension and driveline. Top off washer fluid, brake fluid and transmission. Price includes 5 quarts of motor oil and new NAPA Pro Select oil filter.
*** Extra Charge for Additional quarts
Tire & Wheel Service
4-Wheel Tire Rotation
$30.00
4-Wheel Mount & Balance
$104.00
Oversized Tires/Custom Wheels 
$35.00 

per Tire/Wheel
Tire Repair (Plug/Patch)
$21.95 

per tire.
Coolant System Flush
$95.00
Flush entire coolant system and refill to proper level.
Transmission Fluid & Filter
$189.95
Drain and refill transmission/trans-axle with approved fluid. Adjust linkage as necessary. Install new filter & gasket. Check transmission/trans-axle operation.
PCM/ECM Flashing
Starting at
$105.00
Re-flash your vehicles PCM to latest calibration released by manufacture.
Custom Diesel Tunes – Please call for quote!
All prices are before tax
Service Call
Starting At
$90.00 

Plus Mileage

*** Depending on situation additional fees may apply.
Flatbed Towing
$90.00
Unloaded – $4.00 per mile
Loaded – $4.00 per mile
*** Specialty fees may apply, such as a winch-out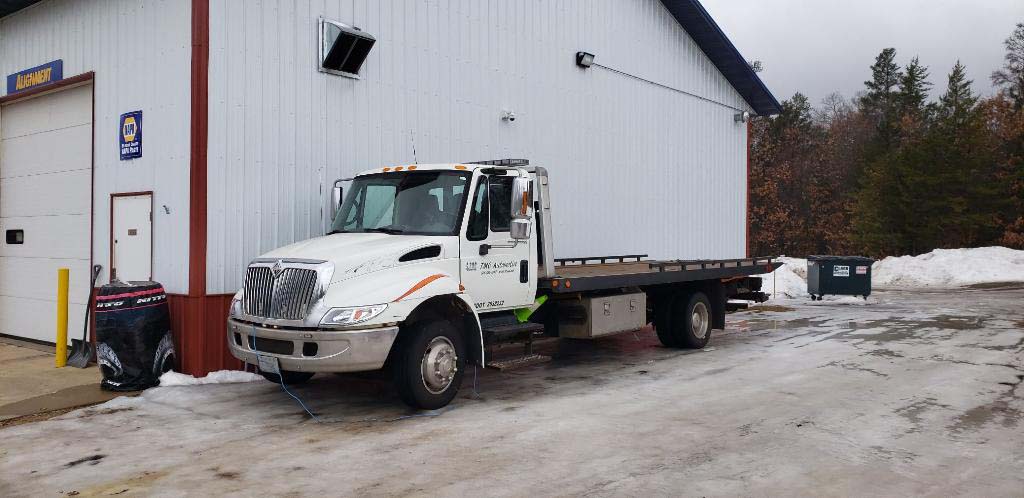 All prices are before tax
TMC offers a 10% discount to active military families and veterans
See service greeter for details